NEWS
Where is Farms Forever?
Over the past few weeks, three American states have taken steps to protect more of their prime farmland. California, Michigan and Pennsylvania all announced plans to preserve additional parcels of agricultural land. Meanwhile, there are still no details from the Ontario government about its promised "Farms Forever" program to protect the province's best farmland for food production.
"Farms Forever" was mentioned by Ontario's Environment and Climate Change Minister in his response to Food & Water First's request for a 10-year moratorium on non-farming development impacting Class 1 farmland. Glen Murray wrote to a supporter:
"I recognize the important contributions that are made by Ontario farms and farming operations to our economy, to sustaining rural communities and to keeping our environment green. In fact, working with the agricultural sector is part of our climate change strategy." 
The Minister ended his letter with a handwritten note: "Going to look into where we are on Farms Forever."
We thank Glen Murray for his response, and urge him and his cabinet colleagues to take action. "Farms Forever" was announced during last spring's provincial election. Another spring is approaching. 
White House: Why Soil Rocks
In this International Year of Soils, the vital resource that grows our food, filters our water, stores carbon and keeps us alive is getting plenty of attention. Even at the White House. The U-S Office of Science and Technology Policy was set up in 1976 to advise the President on scientific issues. Over the next year, the OSTP is going to feature special reports on the importance of soil. In this March blog, it quotes former president Franklin D. Roosevelt: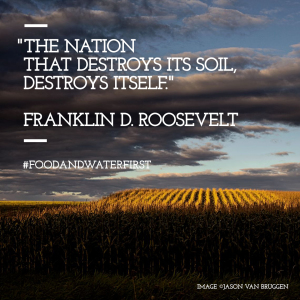 Brazil: Water lessons for us?
It is known as the Saudi Arabia of Water. But Brazil's largest city, Sao Paulo, is facing a crisis with residents and businesses rationing water as taps run dry. The CBC's Anna Maria Tremonte explored this dilemma in an excellent program on The Currrent. Have a listen: CBC Radio: Brazil's Water Woes